May 21, 2013
Yesterday a representative from the Anbar region gave the Malaki government an ultimatum. Either a federation (separate regions), or fighting! He declared that the demonstrations are over. They are demanding the soldiers evacuate the area. Also yesterday over a dozen suicide bombs took at least 95 lives in Iraq.
The April 20th elections didn't seem to change anything. "Each group or party watches out for themselves, for their own interests," one friend said. "You support me. I help you. Each protects their own."
Two days before the elections at least 30 people, mostly young students, were killed in an explosion in a Baghdad coffee shop. Just prior to the explosion a government SWAT team entered the building to check for bombs. People are frightened and full of mistrust.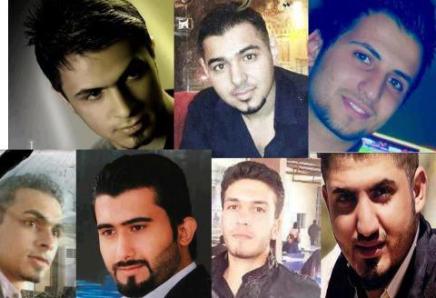 Two weeks later, students from more than one university held signs reading: I am Sunni. I am against Sectarianism. (Tafiah). I am Shia. I am against Sectarianism. I am Christian. I am against Sectarianism…
"People would leave the country if they could," said Ahmed, a gentle soft-spoken man sitting at the table across from me. " I see no hope for Iraq." The evening weather was balmy and the outdoor restaurant pleasant and quiet. The electricity went off several times during dinner. I felt sad that the conversation was so heavy laden during the meal with these two friends, but I wasn't sure if we would have another opportunity to speak so undisturbed and candidly. They agreed that things have changed in the last half year. The sectarian violence has increased markedly. There is, they felt, no indication that the violence and killings will lessen or that Al Qaida can be rooted out. "There is great sadness in our hearts."
Mohammed from another city would disagree that Al Qaida is behind the violence. "It is from within the country, politicians fighting among themselves for power, trying to take the leadership for themselves."
The violence seems so senseless…targeted at women and children, the civilian population. The explosions occur in schools, market places, a carpenter or machine shop, in restaurants. Where is it coming from? Al Qaida? I asked a long-time friend, Ali. He replied " Al Qaida is not a body, it is a thought." But there seems to be no plan, no objective, I retorted. "Yes," he said, "there is an objective. It comes from a high level: to prevent stability, investments, big business construction…"
Ali was neither optimistic nor pessimistic. "The violence has reached a plateau. The region is unstable. It is not going to change." His voice was amazingly calm. Although he mentioned the widespread corruption more than once, he said "We have to build something. If we don't, who will?"
He related sadly how a colleague had left not long ago without a word, from one day to the next. He just left. It was painful for him and his colleagues, but somehow they understood.
"I don't believe we can live together " said Makmut. "When the U.S. troops withdrew the Shi'a were happy saying 'Now we are free.' The government began to target high Sunni tribal leaders, the wealthy, the politicians. When those with big tribal connections began to be arrested, Sunnis began to organize. There are two camps of Sunni thinking: those desiring a federation with distinct territories having their own governments; and those who don't want a divided country. Makmut believes that if a federation is created, the Sunni population will be driven out of Baghdad. There have already been many incidents of killings using guns with silencers, of arrests and murders in side streets. Makmut himself has recently lost family members and friends. The day we spoke there were 8-9 explosions in Baghdad alone. People are being encouraged to stock up on dried foodstuffs.
Abdullah remembered his grandfather's stories about Al Qaida. There were pockets of Al Qaida in the Kurdistan area under Saddam. "Al Qaida believes if you kill ten Shia you go to paradise. In Al Qaida's army one gets promoted by the number of Shia killed. For Al Qaida the real war is religious." He continued. "The war between the Shia and Al Qaida is religious. It is the political Sunnis—I am not speaking for all Sunnis—who are using Al Qaida to destroy the government. There can be no discussion. It is right or wrong. You must follow. When speeches are given at Sunni demonstrations, they begin with political speeches but turn into tirades against Shia. It is not in secret; it is on TV. …We feel danger all the time. Everyone has a gun now to defend their families. Everyone is thinking about a civil war now." *alias names have been used
Cathy Breen is a co-coordinator of Voices for Creative Nonviolence. Cathy is in Iraq for the month of May staying with several families.
She can be reached at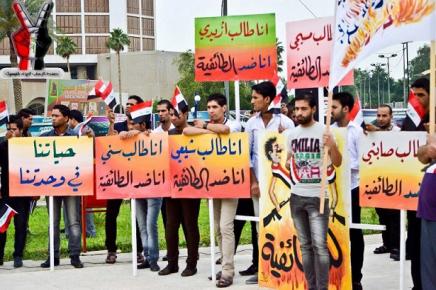 Students Against Sectarianism