May 28, 2007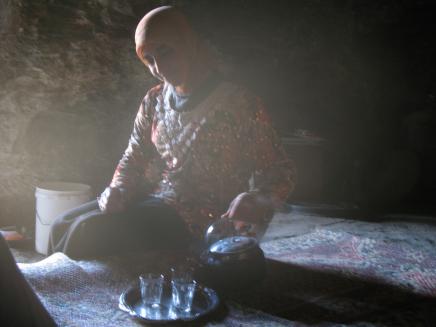 I've found the best tea in Palestine.
It's made by cave dwellers who live a two hour hike from the rural village At-Tuwani where I work. This area is beautiful; to the south is a view of the Negev desert, and to the east you can see the Jordan mountains. To get to these caves you must hike around Israeli settlements without being spotted (or else you risk harassment or worse), and climb up and down steep hills. From these remote caves one gets the sense that if there was an emergency an airlift out would be required.
I'm deeply humbled by these Muslim families who are so welcoming to a white American stranger. I don't recall my family ever once letting a stranger into our house. Over cup after scalding cup of tea, we talk with each other simply as people.
In one cave, I hold a two-month old baby girl in my arms. Her mother is out in the fields harvesting wheat by hand. The strength and courage of women here is unmatched. Children must walk long distances to attend elementary school in At-Tuwani. These children have been attacked by Israeli settlers in the past, and now must be escorted to school under armed guard. Part of my job is to make sure the military shows up on time to escort the kids back and forth.
One Tuwani woman has some serious health problems. She needed surgery days ago, but it has been delayed in part due to the process of obtaining proper Israeli permits just to travel to the hospital in Tel Aviv, Israel.
Today, F-16 fighter planes were flying low over head. I counted six of them, and assume they are on their way to Gaza to once more speak the language of force. As I write, Israeli leaders vow more destruction in Gaza. What else is there to be destroyed?
I wish these leaders could join us here and speak instead as we do, as people, over a cup of the best tea in all of Palestine.
Joel Gulledge is co-coordinator of Voices for Creative Nonviolence and a reservist with Christian Peacemaker Teams in Palestine. He is founder of tuwani.org, and can be reached at joel@vcnv.org.