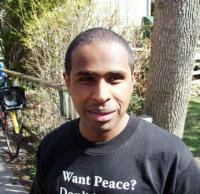 Life in the Desert
When life started for me, all I knew was running and playing with the sand of the Sahara. As a young boy, I did not know there could be a different life other than the extremely hot and dry weather. I did not know about such a thing as snow. I hardly even saw rain. The weather was so dry where I was growing up that it rained once every two or three years. The only kind of storm that I saw was the Haboub which is the Sudanese name for sandstorm. It comes more in the summer during the evening time. Everything would change; I remember when the sky turned red and people hid inside. I remember when I lost my cotton mattress in that blowing wind.
As the oldest child in my family, my parents respected me and gave me many responsibilities. Since I was a little boy my father always trusted me to help take care of my young siblings. He worked as a businessman and supported everyone in my extended family. Growing up, my mother always loved me and was concerned about my future. She did not work but stayed home and took care of us.
Living in the middle of forty cousins was a great experience for all of us, from sharing one plate of food to wearing the same shirts. Growing up in that society, there is no difference between cousins and siblings. Playing in the sand with siblings, eating dirt with friends, and swimming in the Nile River with cousins was part of the entertainment for children.
In that harsh dry environment, water is not available all the time. In my hometown, people used to walk two to three miles every day to find water. We had many seasons where people had to use water from the river because there was no water in wells. There were many diseases in that region due to the consumption of the river water. As a child I remember drinking that muddy-looking water. So many people suffered from different diseases in my hometown. Personally, I had dysentery and typhoid from that scary looking water. So many people died from these diseases, but after a while most people built up their immune systems against them.
When I was one year old, my family discovered my visual impairment. I started losing my vision rapidly. Running into things after the sun goes down was an everyday routine. At first, I struggled to see things that were far away. In first grade, I read regular print, but from a close distance. The book had to be close to my eyes in order for me to be able to see it. When I was in third grade, I lost enough vision that prohibited my eyes from reading any regular print. At the beginning, my family was very concerned about my education. My family decided to make the first move when they went to the capital of the country. Khartoum is the largest city in Sudan. All of my family moved to that big city when I was twelve. It was hard for me to be separated from the rest of my cousins. I missed everything in my hometown.
It was a very good decision made by my family for my future. I went to a special school for the blind. It was a great leap when I learned Braille. After three years of being an auditory learner, I knew there should be something more than just listening in my classrooms. Being the first blind child in the history of my family, learning Braille was not enough. My family wanted something more like an eye treatment. They contacted an older cousin of mine who lived in Russia. He went to Russia for his college education. My cousin was able to get all the legal documents which allowed me to enter Russia. After spending three months in Russia with my cousin, I was diagnosed with Retinitis Pigmentosa. It is also known as RP. RP is the name given to a group of hereditary eye disorders. These disorders affect the retina, which is the light- sensitive tissue lining the back of the eye, in which the first stages of seeing take place. In RP, sight loss is gradual but progressive. Doctors decided that my case was useless. They tried different eye drops and over one hundred injections. The injections were so painful, especially when they gave me over half of them in my eyes. When I was getting the injections, my cousin took me to the clinic twice a day, at 9:00 in the morning and 1:00 in the afternoon. Even though my cousin was encouraging, I was still very nervous, especially after hearing an older boy crying from the same treatment. I spent three months in Russia, and then decided to go back to Sudan. I was very tired of getting so many injections, and I missed my family. The doctors decided to give me 50 or so injections to take home. They thought the medicine would slow the deterioration of my retinas.
After I arrived in Sudan, many of my cousins, uncles, and aunts were waiting to see me. My parents and my siblings were also waiting as well. They all came to welcome me by a big meal. The whole family enjoyed the feast together, and I was the honored guest. Up to that moment I had experienced Sudanese culture and Russian culture. Now I am experiencing American culture. Although there are differences among these cultures, I found similarities such as caring people, kindness, and friendship. Despite the differences like sand and snow, people are the same wherever I go. After living in the US for more than five years, I obtained my BS degree in Management Information Systems from the University of Minnesota. In January of 2010, I connected with Voices for Creative Nonviolence to become a peace advocate. I joined the Peaceable Assembly Campaign In Washington DC for the first time last January. It has been such great and unique experience to be one of Voices' members.