October 7, 2012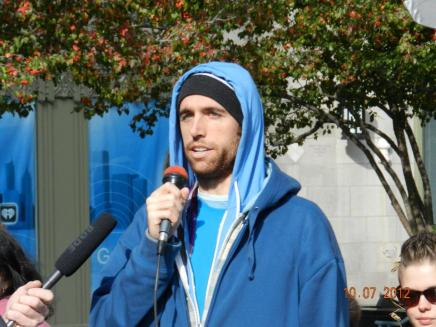 Buddy speaks about Afghanistan
When I was in Afghanistan with Kathy Kelly in June of this year, we met with a woman who, during the 90s, had seen her young daughter legally abducted, married, and within one year, killed by a Taliban official. Now if you're saturated day in and day out with Western media, such as the Chicago Tribune, you might assume that this woman was happy the U.S. troops have come to rescue people like her from suffering the same experience. So I decided to ask her: what does she think about this idea that with the U.S. soldiers in the country, their presence is bringing some measure of security for Afghans, especially women? Her prompt response to me was: "What good are they [bringing]? They're the ones killing the people!"
And indeed, she could have also said:
What good are they bringing– when the U.S. drone strikes are killing innocent civilians? What good are they bringing– when soldiers have orders to shoot through doorways in lethal night raids, when there could be anyone behind the door? What good are they bringing– when still today, 11 years after George W. Bush announced a "new Marshall Plan" for Afghanistan, nearly every road in the capital city is dirt or gravel, the official unemployment is 35% and the air over Kabul is the dirtiest in the world? What good is this war– when Afghan government officials are unelected and unaccountable, because the Afghan constitution was written in Washington and Bonn, Germany, and the U.S.-selected president gets to appoint all the governors of Afghanistan's 34 provinces? What good is this war– when a stacked Parliament passes a law to officially allow a husband to withhold food from his wife if she doesn't comply with his wishes, where members of Parliament who denounce these actions have been censured and expelled from that legislative body? What good is this war– when according to UNICEF, 30% of school-age children are not going to school, but instead work as street vendors and window-washers on the street to support their families, leaving them vulnerable to abuse?
For all these reasons, we're out in the street, to call up the power of people working together. Because working together is how we'll force the hand of the politicians to stop feeding the war machine that doesn't help the vast majority of us in the world. These politicians could stop the war right now if they wanted, but we have to force them, since right now they're the puppets of the people profiting from war.
We put on more pressure to force Gates' and Petraeus' hand, when we communicate with our peers and not just a TV screen, when we stand to support the people who got raided by the FBI two years ago and the NATO 5 and others imprisoned for protesting drones and nuclear weapons, and soldiers who are refusing unjust orders. We put on more pressure to force Clinton's hand, when we support Bradley Manning and all whistleblowers who have given us information than we deserve to know, and when we educate ourselves accordingly. And we put on more pressure to force Obama's hand when we put together our knowledge and our organizing network to build a bottom-up movement that can declare…
Not one more trigger will we pull
Not one more button will we push
Not one more weapon will we transport
Not one more shipment will we load
Not one more wire will we connect
Not one more system will we design
Not one more student will we teach to study war
Because 11 years in Afghanistan is 11 years too many!
This war is no good! Bring the troops home now!