(based on Max Obuszewski's summary, Sept. 23, 2015)
Recently, members of the National Coalition for Nonviolent Resistance (NCNR), wrote to President Obama urging him to heed Pope Francis's call for governments throughout the world to help end war, poverty, the climate crisis, and systemic violence. The letter was unanswered. Seeking a response, close to one hundred activists gathered at the White House. This was part of the week of actions called for by Campaign Nonviolence with over 325 actions around the country between September 20 and 27.
Just prior to the historic visit of Pope Francis, NCNR activists gathered on Pennsylvania Avenue in front of the White House. Amidst heavy security, speakers raised issues about Islamophobia, nuclear weaponry, extraction and consumption of fossil fuels, global inequality, corporate control of governments, climate chaos, killer drone strikes and other abusive actions in which the U.S. government is complicit. During the White House rally some twenty-five of the citizen activists went to the visitor's entrance to the White House to seek a meeting. After their request for a meeting was rebuffed, many of them sat down in solidarity with the world's suffering. While sitting there, they noticed many people, including members of the media, did get through to the White House. Since people were entering through this gate, some of the activists got in line. Again they were rebuffed, and eventually fifteen of them were arrested.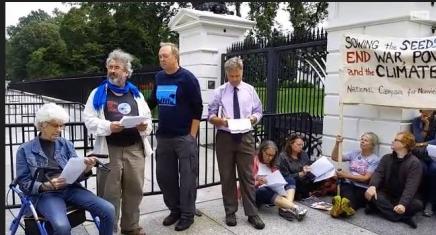 White House Refuses to Meet with Protest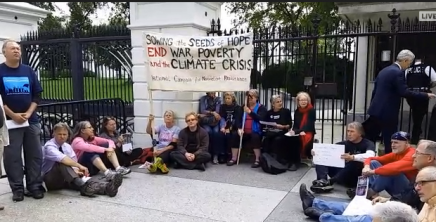 Waiting at the north security entrance
Those taken into custody were as follows: Joe Byrne, Baltimore's Jonah House, Don Cunning, Carol Gay, Mary Ellen Marino and Maine Saba, all from New Jersey, Joy First and Phil Runkel, from Wisconsin, Kathy Kelly and Brian Terrell of Voices for Creative Nonviolence, Art Laffin, Malachy Kilbride, a Maryland Quaker, Joan Nicholson, a Pennsylvania Quaker, Max Obuszewski, Baltimore, D.C.'s Ellen Taylor, and the venerable Eve Tetaz, Washington, D.C. They were charged with disorderly conduct and are scheduled to be arraigned on October 15 in D.C. Superior Court. Many of them will go to trial to challenge a government which refuses to meet with them, and instead has them arrested. They came to Washington to call on our government to heed the words of Pope Francis and to stop the warmongering, protect Mother Earth and end income inequality.
David Swanson, from World Beyond War, spoke about the need to take immediate action, stating, "As the climate crisis moves beyond reversibility and the war-made crisis of the Middle-East continues to be worsened by governments seeking to fix it with more war, we cannot afford to take a year and a half off for election-distraction. The world needs radical change in Washington right now."
Kathy Kelly said: "The Obama administration bears responsibility to educate the U.S. public about the greatest terrors we face, - the terrors of what we are doing to our own environment. Not one dime of U.S. resources should ever again go to war profiteers, war planners, and Pentagon exploits. Instead, those resources should be used to alleviate the impact of climate change and to meet human needs within the U.S. and beyond."