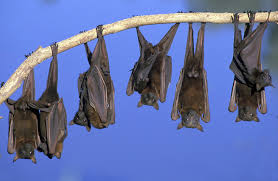 Dear Friends,
We had such a sweet conversation in my room this morning. Brandy, who lives down the hall, told us that each night a little bird sings a song outside their window. She and her roommates wonder if the bird is confused, if it thinks the sun is rising when the prison floodlights turn on, after sunset. Gypsi, my roommate, who lives in Kentucky, says we hear the song too, and it's a bat! I like the notion of little bats delivering nocturnal songs to us before we settle in for the night.
From news reports, it appears that some legislators are beginning to raise questions about drone usage and drone warfare. I hope our various campaigns can keep referring to the large and crucial matter of whether the U.S. has any right to wage and prolong warfare, —ever.
While here, I felt especially grateful that Gypsi and I both had a chance to read Michael Ondaatje's novel, Anil's Ghost (2000), set in Sri Lanka during a brutal war. Ondaatje is uncompromising in his contempt for all war. Gypsi helped me understand how he uses the symbol of unwrapping as a way of communicating nuance and opposing black and white judgements. But he persists in his rejection of war. In one scene, he describes a distraught surgeon treating the broken bodies of people brutalized by torture and war. The doctor finds that the only place he can calm down and get some sleep is in the children's ward, amid mothers at the bedsides of their children.
Here in Atwood Hall, women, in the clutches of the prison-industrial complex, yearn to hold their children. Can we hasten release of prisoners and link energies to abolish the prison-industrial complex? The latter is a huge task. I hope brilliant writers such as Bryan Stevenson (Just Mercy: A story of Justice and Redemption, 2014) and Chris Hedges (commondreams.org, April 6, 2014) will help stir the waters and raise energies commensurate to the need for liberating ourselves from the evils of mass incarceration and extreme punishment.
We'll look forward, at Voices, to remaining in touch with people about these issues.
To the hundreds of people who sent me messages, cards, books and articles over the past three months, my deepest thanks. May birdsongs and bat songs grace your springtime too!
Sincerely,
Kathy