in Damascus, Syria
July 12, 2007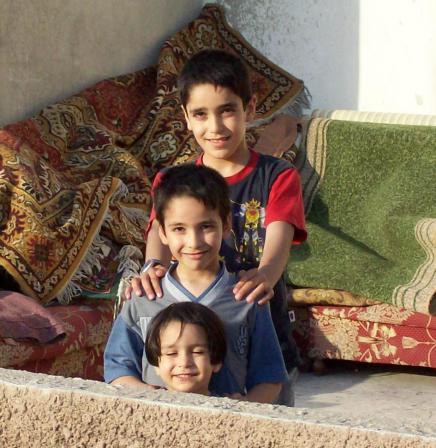 Rooftop Neighbors: photo by Dan Pearson
For my Iraqi neighbors living here in Yarmouk Camp, the Palestinian example is hardly an uplifting reminder that it could be a very long time before they can safely return to their homes and lands. But, they were lucky enough to escape the nightmare of U.S. freedom and democracy in Iraq, and at least there is usually electricity here and clean water to drink, so they try to put on a happy face. Yarmouk, one of the three most popular destinations for the estimated 2,000 Iraqis crossing into Syria every day, is a primarily Palestinian refugee camp on the outskirts of Damascus.
Countless Iraqis are hoping for a chance to gain asylum in any country that will take them. Enormous crowds spend entire days waiting just to get an appointment for an interview with the over-loaded UN Refugee Agency up to six months away. Those trying to stick it out here face a growing crisis; their visas do not allow them to work and the future is bleak. Although some of them have found work in the black market economy or as unskilled laborers, many others are praying that help will come before their meager savings run out. They dread having to join the throngs of other Iraqis begging in the streets.
Syria is stretched to the limit dealing with the crisis with little help from the international community. Official estimates claim that as of this month (July) there are 2 million Iraqis in Syria, a number increasing by 30,000 every month. This sudden influx has put a tremendous strain on the public health care and education system. It has also caused inflation, which means the prices of food and housing have risen dramatically. This adds to the growing frustration among Syrians who initially welcomed their Iraqi brothers and sisters gladly. There is also the ominous sense that the sectarian violence in Iraq could spill over into Syria at any moment.
In May, Condoleeza Rice briefly met with Syrian Foreign Minister Walid al-Moalem, ending U.S. diplomatic isolation of Syria, but recent meetings don't qualify as "carrot and stick" diplomacy unless we accept that "the only carrot is no stick." Rather than offering assistance to the Syrian government or the UN to deal with the heavy burden of so many people escaping circumstances that it has created, the U.S. maintains a series of sanctions by way of the Syria Accountability Act of 2003, which include the following: • Ban on exports of products of the United States; • Ban on U.S. businesses investing or operating in Syria; • Restriction on travel of Syrian diplomats to within a 25-mile radius of their posting in the United States; • Prohibition on Syrian air carriers from take-off, landing, and overflight of the United States; • Reduction of U.S. diplomatic contacts with Syria; or • Blocking U.S. persons from engaging in any property transactions with the Syrian government.
The Syria Accountability Act of 2003 ostensibly aims to "hold Syria accountable for the serious international security problems it has caused in the Middle East." This may seem crazy, but that's because it is. In psychology this is a combination of defense mechanisms commonly used by psychopaths. Namely denial and projection, in which confrontation with a problem or reality is avoided by denying the existence of that problem or reality or in this case by "projecting" guilt or blame onto someone else. It's almost as crazy as the perpetrator blaming the victim, which I should mention is also a current bi-partisan approach being employed by the U.S. Congress.
Whenever I leave my apartment here in Yarmouk, I inevitably encounter Iraqis and Palestinians. Since my nationality is generally known in the neighborhood and considering how negatively U.S. foreign policy has personally affected my neighbors here, one would think that they would be inclined to throw rotten fruit at me at the very least. Astonishingly, I instead receive friendly greetings and smiles.
As a typical example of Iraqi forgiveness, I recently met an Iraqi man selling fresh Iraqi bread at a newly opened stall. He asked where I was from and I confessed, adding my personal apology for and opposition to U.S. aggression in Iraq. He said he had a problem only with the U.S. government and military, not the people. Twelve years of cruel economic sanctions and aerial bombardment were followed by four years of war crimes, pillaging and devastation that came with the U.S. occupation of Iraq, as well as the failure to date of U.S. civil society (myself included) to build a sufficient movement to end it. After all that, the Iraqi baker still insists that Americans and Iraqis are friends. Go figure. We certainly could do more to preserve our friends.