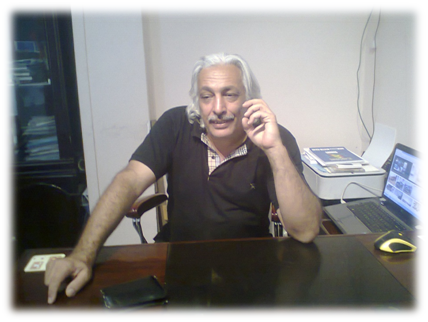 Qasim El Sabti

May 29, 2013
"My gun is my art, the bullets are the colors." – Qasim El Sabti
"Don't be alarmed if you hear an explosion " Ahmed said to me. It was not yet 8am. "A bomb has been found nearby, and it will be detonated."
Later in the morning, we were going to visit an artist at his gallery. I felt the need to be nourished and uplifted by beauty, by the arts. Although I had never met the artist personally, I felt I knew him already. Maybe six or seven years ago I went to an art exhibition of Iraqi art at a gallery in New York City, actually very close to where I live. Of all the artwork on display, Qasim El Sabti's pieces were the ones I could not forget. And now I was to meet him. "You must come to eat mosguf," he had told me over the phone the day before. Mosguf is a dish of fish cooked over an open fire.
The night before we heard that militias had attempted to take several of the main highways in Baghdad. As we drove down one of the highways on our way to the gallery, we spotted a tower of billowing black smoke up ahead. There was a charred car still burning, and firemen were trying to put out the fire. It was apparently a car bomb. Tragically, this is the reality in Iraq these days, not only in Baghdad.
When we met with Qasim, he spoke about another fire, back in 2003 right after the U.S. forces entered Baghdad. "I was sitting on a balcony watching the American soldiers pass by in the street. Moments later there was a huge fire and I went to see what had happened. The fire was in the library of the Academy of Fine Arts." This was a place very dear to his heart as it was there that he had studied. The library shelves had been emptied and the books had been set on fire. His beloved Academy had become another victim of war. "I felt like a fireman desperately in need of finding survivors," said Qasim. He noticed some soot–covered books that had seemed to survive intact, but when he picked one up, burning his fingers, the text fell to the floor. The pages scattered around him. Holding only the cover, he was fixated by the little details of life that filled the inside cover: strips of cotton, some Arabic verses scribbled in pencil, notes written by the librarian. "My imagination was reborn. Here I found the essence of life deeply inscribed as signs of one book's extensive journey," Qasim told us. "I was filled with a new sense of life and hope."
"Like the fireman realizing that some victims were still breathing, I collected as many covers as I could.
Back in his studio he went immediately to work with "passionate fingers" to transform them. It was here that his art style took a dramatic turn. "People usually read the text, but I wanted to transfer the text to the cover, to help people understand what happened. After World War II there were art experiments made from residuals of war, like Hiroshima for example."
In an exhibition of Qasim's work in Japan in 2008, a Japanese man stood silent for a long time, his gaze fixated on one of the art pieces. "Mr. Qasim, I see what you mean. This happened to our land."
"It seems my work comes out of tragedy," Qasim continued. Under the economic sanctions he had to sell 400 of his books in order to buy milk for his children. "Art began to die under sanctions….bad colors, bad covers…. not durable. Specific colors were stopped as they 'could be used for dual purposes."
"I am a Bedouin at heart. My decision to stay is a kind of resistance against the dirty war. …It wasn't Saddam. He could have been taken out at a parade. There was a plan to destroy my country."
"The new style wasn't premeditated, it came from the soul….a message for others outside of the covers. Covers are like people, they need a cure, …respect." He struggled for words. "We must love books because books are part of Iraqi culture, when combined with love and feeling, others will find what I mean."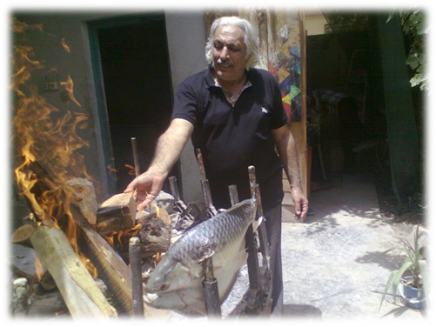 Now and then our host, a gentle yet forceful man, rose to tend the mosguf he was preparing. I felt privileged to be among his guests.
I am sad that my time in Iraq is coming to a close. Let us hope and pray that the Iraqi spirit may remain strong and resolute as Iraqi people struggle for peace.
Cathy Breen () co-coordinates Voices for Creative Nonviolence – www.vcnv.org)