23rd November, 2012 ( Gregorian calendar ) 3rd Qaos, 1391 ( Afghan calendar )
Dear friends and fellow human beings,

When I spoke to the laborers on the bridge, their voices were like the voices of those seeking shelter in their own homes.
Why should Ghulam the daily-wage laborer and father of two small kids sense that no one hears his wish to work and find a living?
Abdulhai speaks with Ghulam,
a daily-wage Afghan laborer
Ghulam had said, "To us laborers, all work is work."
Those who are willing to do any sort of honest work can find none. Those who are corrupt despise the laborers' clothes.
The other day, I told Hakim that it's 'zor, pul wa wasita' ( power, money and connections ) that will get us jobs these days.
This sort of 'future' messes up my feelings.
From Samia

I used to sweep the streets and alleys, and get 20 Afghanis ( 38 U.S. cents ) for every five houses along a street.
Samia on sweeping the streets of Afghanistan
I don't want to do that again because I want to be a teacher someday. While I was sweeping the streets, I would sometimes think, "Why can't I do what other small girls do?"
I used to think that if I could study like other children, I would perhaps become something someday.
I know that everyone has enough problems of his or her own, and so cannot do much for others.
But I think girls in Afghanistan should study hard, and then help others by teaching them.
From Hakim

I had the opportunity to eventually train as a medical doctor because my parents worked hard to provide for me.
I didn't have to carry the bread and butter concerns that young Samia and fatherless Abdulhai grew up with.
I could even set aside time for leisure, unlike many Afghan children.
But, without meaning to devalue my profession at all, being a doctor doesn't make me a better human being than a farmer, sweeper or laborer, and should not entitle me to earn much more than they do. I'm not envisioning equal wages; I'm hoping for fair wages, and even more pressing than that, for humanity to soon work out a way to provide decent livelihoods for all.
So, I admire the many Afghan children who need to help supplement their family's income. I've met children who work the entire day weaving at carpet looms and kids who collect trash to sell. I've met street vendors and apprentices of skilled and unskilled labor. I know that all of them are contributing to life.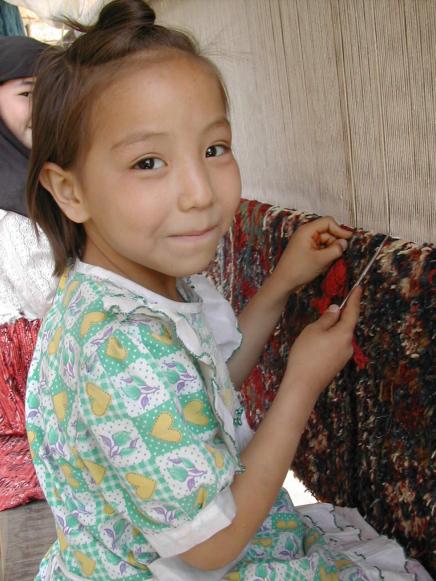 Afghan children weaving carpets
These working children warm me with the values they embody: dignity that recognizes that they are doing nothing wrong, resilience that carries adult burdens, and resistance that pushes back an unfair economic system.
Just today, Ali, who is Abdulhai's fellow Afghan Peace Volunteer, said he may sew a few duvets after his exams for some wages, so he needn't wear the same pair of trousers to school through the year.
And Abdulhai wondered what work he could find in Kabul so he could replace his worn out shoes, without relying on someone else.
The problem is that there's hardly any part-time work to be found. And, just as Abdulhai had empathized with the laborer's lament, governments are not listening.
So we are left to walk the streets of Afghanistan, and catch the loneliness of mass survival.
Love,
Abdulhai, Samia and Hakim