Damascus, Syria
May 16, 2010
Dear Friends,
"Ten years ago everyone dreamed about going to America." The words of an Iraqi friend to me recently. But this is no longer the case. Quite the contrary as a matter of fact. Iraqis who have been resettled to the U.S. have been returning to Syria and Iraq as the conditions there have been unbearable. No work to be found, benefits cut, etc. Iraqis here and in Jordan are quite aware of such situations, but they are caught in a bind. The U.S. is the only show in town so to speak; their quotas for Iraqi refugees far surpass those of other countries.
A few days ago I visited a young family with three little children. The children stole my heart a year ago when I first met them. This family has since been approached for resettlement to the United States. There is no other country with openings. They have already passed through a number of interviews and are awaiting a call to appear for the deciding interview with an officer from the Department of Homeland Security.
The wife's brother in Baghdad told her "Go to any other country, but not to the United States. People returning to Iraq from the states are facing grave problems…kidnappings and killings." She has heard moreover that, should they go to the U.S., she and her husband will have to agree to their sons enlisting in the army when they are of age, even return to Iraq to fight should they be called to. This thought terrifies the mother.
Even before visiting the family, my translator told me how nervous and fearful the family was about going to the states, a place so foreign from their own, so far away. Upon hearing this, I sent an email to some friends in New Jersey, asking if they would be in a position to begin searching for a support group to receive this family. Such a group of friends could make the difference between a frightening lonely experience, and one of feeling welcomed and expected. We shall see what will unfold.
Another family we visited recently also feels trapped. Like the above-mentioned family, they have been caught in the Shi'a – Sunni sectarian violence. They have lost so many family members, as well as the family home, that returning to Iraq is not an option for them. The husband is on a death list.
The mother repeatedly broke down in tears during out visit as she related the brutal killings of her family. Although she is getting psychological help, she cannot shake her fear and anxiety. "The doctor," she said, "tells me to put the sadness behind me, to think of pleasant things. But I come home to my husband without work…we cannot buy the simplest things for our children…How can I?" They do not qualify for cash assistance, as there is a male in the household. The father gets sporadic work (illegally) washing dishes or waiting on tables. They would like to have another child, she said, but they cannot consider this. "I just want to go somewhere, anywhere, where my children can have a future."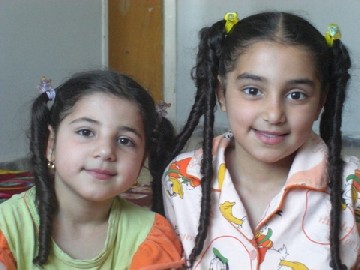 Such a normal desire. A desire all parents have in common. I asked the little girl to the right what she wanted to be when she grew up. "A doctor…a doctor for children. And I want to treat the children for free." I asked her little sister the same question. She thought about it for quite awhile and then replied, "I want to draw pictures." The makings of an aspiring artist it would seem!
In her book A Paradise Built in Hell, Rebecca Solnit proposes that "the prevalent human nature in disaster is resilient, resourceful, generous, empathic and brave." When Cain cries out after killing Abel "Am I my brother's keeper?" he is "also raising one of the perennial social questions: are we beholden to each other, must we take care of each other, or is it every man for himself?"
It is time to try and pick up the pieces of the lives and dreams we have shattered…through the wars we have chosen and continue to choose. The little girls in the photo did not choose this war, nor did their parents. May the light in their eyes help us to find our way.
It is time to open our hearts and homes to welcome and heal what we have broken. Should your family, community, church or other group of friends be able and willing to extend the hand of hospitality to such families, please let us hear from you.
Cathy Breen, Voices for Creative Nonviolence, email: newsfromcathy(at)yahoo.com