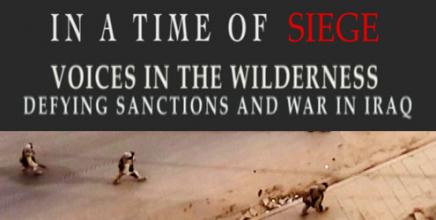 "In a Time of Siege," a documentary by Peace Production Films, includes narration by Studs Terkel, interviews with Iraq Peace Team and Basra Project team members, and footage of Iraq Peace Team members encountering U.S. Marines in April of 2003 when the Marines first entered Baghdad after several weeks of Shock and Awe bombing. This DVD is about the work of Kathy Kelly and other participants in Voices in the Wilderness delegations who delivered medicines to Iraq in violation of U.S. led UN economic sanctions. Upon return to the U.S., travelers with Voices delegations did their best to educate others about what they had seen and heard while in Iraq.
Produced by Jackie Rivet-Rivers and Peace Production Films
Ordering In a Time of Siege:
For a donation of $10 USD to Voices for Creative Nonviolence, we will send you a copy of the DVD "In a Time of Siege" (check, money order or cash) to:
Voices for Creative Nonviolence
1249 West Argyle Street
Chicago IL 60640
Please supply the memo: "In a Time of Siege"
For questions call 773-878-3815.
---