February 24, 2008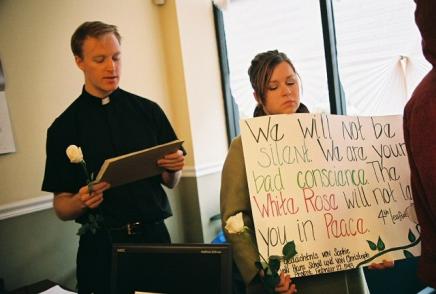 We Will Not Be Silent (photo: Suzanne Sheridan): Chris Spicer, a Jesuit, and Abby Strozinski, student at Loyola University Chicago, in Representative Emanuel's office.65 years ago, on February 22, 1943, the Nazi regime executed three German students because of their active resistance to the regime's murderous global and domestic agenda. Known as the White Rose, nearly all participants were students. 29 members were indicted for promoting opposition to the holocaust and to World War II.
Here in Chicago, several dozen people gathered in early February to watch "Sophie Scholl: The Final Days," a film about the White Rose movement which focuses upon the experience of Sophie, and to think about our responsibilities, today, to confront Congressional Representatives and Senators in the U.S. who fund and prolong the wars in Iraq and Afghanistan. Seventeen people agreed to commemorate the 29 indicted White Rose activists by delivering white roses to people working in Representative Rahm Emanuel's office. Rahm Emanuel is Chair of the House Democratic Caucus and consistently votes to fund the war in Iraq. We hoped that staffers would receive the roses and also engage with us in a conversation about Representative Emanuel's position regarding the war in Iraq.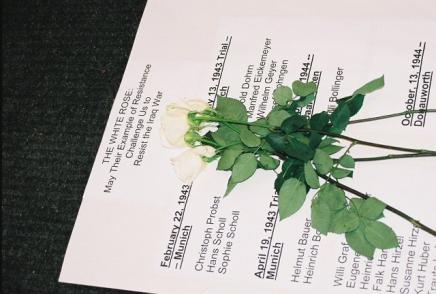 Commemorating the White Rose (photo: Laurie Hasbrook): We remember the 29 individuals indicted by the German government for participation in the White Rose resistance effort during World War II. Five were executed and most of the rest sentenced to lengthen prison terms.
Moments after we entered Emanuel's office, a storefront on Chicago's north side, a polite receptionist stepped out of the staffers' workspace and greeted us while we crowded into the small reception area. Jacob Olzen, a Loyola University graduate student, explained our purpose and handed her a letter to deliver to Representative Emanuel. She received the letter, but assured us that we wouldn't be able to give our roses to her colleagues working in cubicles nearby. A thin four foot door separates the reception area from the staffers' workspace.
The Chief of Staff joined the receptionist for a few minutes, shortly after we arrived. She assured us that Emanuel braves criticism from other Congressional Representatives, in Washington D.C., for having mounted pictures in his office of all the people who've died in Iraq, all the photos being of U.S. soldiers. We held up pictures of Iraqis and reminded her that Iraqis also suffer and die. Then she told us she couldn't talk to us, nor could any of her staff.
The receptionist said that all of the staff were busy, and that they must make themselves available to people who come into the office from "off the street."
We pointed out that we'd just come in from "off the street."
The staffers and their supervisors respected our right to be there. They shunned us, but didn't arrest us.
Anyone working behind the partition might easily have seen or heard us, and I'm guessing that when we left, about two hours later, the workers were curious about the group of people who spoke earnestly about the connection they felt with the White Rose. We left behind dozens of white roses, laid upon enlarged photo portraits of ordinary Iraqis, and also forming a bouquet over a poster bearing the names of 142 military service members from Illinois killed in Iraq. Another poster bore the names of the White Rose members indicted for their active resistance to war and the holocaust.
Did Emanuel's staff sweep up the roses, pictures and lists, without another word, and dispense of them in a waste basket? I don't know, but I don't think memories are dispensed with so easily.
What might anyone listening have heard, last Friday morning, in Rep. Emanuel's office?
Chris Spicer, a Jesuit studying at Loyola University, read a prayer which he had carefully written, in Arabic. Abby Strozinksi, also a Loyola student, held aloft a poster she'd made the previous night. On it she'd drawn a long-stemmed rose and written words from the fourth White Rose leaflet: "We will not be silent. We are your bad conscience. The White Rose will not leave you in peace." Justin McMahon, who, like Abby, majors in peace and justice studies, noted that the White Rose members risked their lives to end the war. "Shouldn't we take risks, now?" asked Justin. "Sophie Scholl's voice is echoed through our voice; it's a message that's not welcomed, not a priority for many people. But we have a connection to people who've died."
Erin Cox read aloud our letter to Rahm Emanuel. We asked him to vote against any additional funding for the war in and occupation of Iraq, to oppose any further military action against Iraq, and to support complete withdrawal of all U.S. military forces from Iraq.
Several people spoke about the "burden of knowing," –after studying the consequences of the war, listening to eyewitness testimony, researching the bloated military budget, and learning more about people who bear the consequences, how could we remain silent?
Before leaving, we agreed to briefly state our names and say something about what groups we represented. We came from Voices; from colleges; from the Catholic Worker movement; from labor unions; from faith based communities; from the neighborhood and elsewhere. Spontaneously, the youngest members of our group identified themselves as citizens of the world, a part of humanity, members of the global neighborhood and at one with global brotherhood and sisterhood.
Then we read this quote from the White Rose's first leaflet:
"Nothing is so unworthy of a civilized nation as allowing itself to be governed without opposition by an irresponsible clique that has yielded to base instinct. It is certain that today every honest German is ashamed of his government. Who among us has any conception of the dimensions of shame that will befall us and our children when one day the veil has fallen from our eyes and the most horrible of crimes – crimes that infinitely outdistance every human measure – reach the light of day?
If the German people are already so corrupted and spiritually crushed that they do not raise a hand, frivolously trusting in a questionable faith in lawful order of history; if they surrender man's highest principle, that which raises him above all other god's creatures, his free will; if they abandon the will to take decisive action and turn the wheel of history and thus subject it to their own rational decision; if they are so devoid of all individuality, have already gone so far along the road downward turning into a spiritless and cowardly mass – then, yes, they deserve their downfall."
PHOTOS OF WHITE ROSE ACTION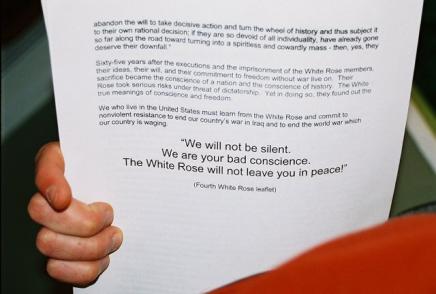 White Rose Action Leaflet (photo: Laurie Hasbrook)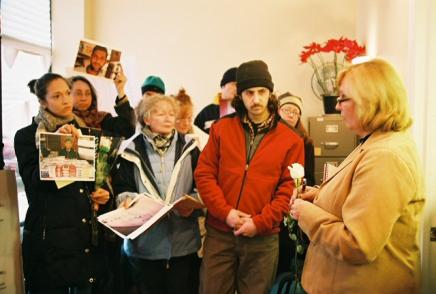 Conversing with Emanuel's Staff (photo: S. Sheridan)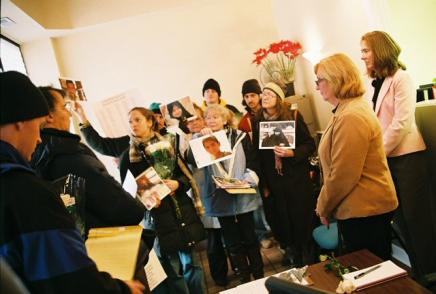 Remembering Iraqi Citizens (photo: S. Sheridan): We ask: "Does Representative Emanuel have photos of Iraqis harmed by the war lining the hall outside his office?"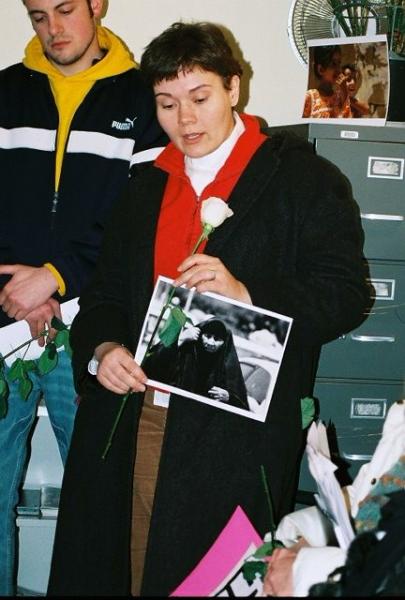 Le Anne Clausen (photo: Laurie Hasbrook): Le Anne Clausen, seminarian at Chicago Theological Seminary, joins us in remembering the White Rose. Le Anne lived in Iraq with Christian Peacemaker Teams. She will soon begin a jail sentence for nonviolent resistance at the School of the Americas.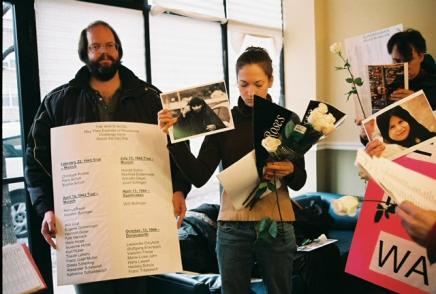 Remember the Dead (photo: S. Sheridan): We recall those whose lives have been lost and disrupted: Iraqi citizens, U.S. soldiers, members of the White Rose resistance movement.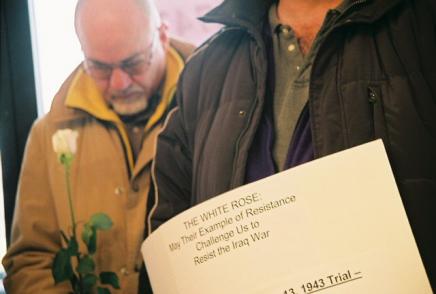 Remembrance: Dan Gerber of Christian Peacemaker Teams. Let the challenge of the White Rose move us to resistance to the Iraq war.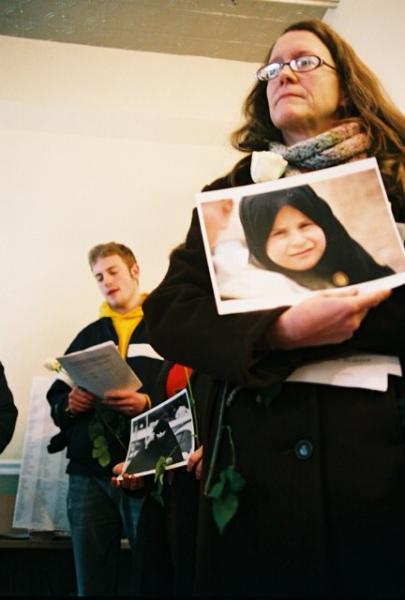 Justin McMahon Reading White Rose Leaflet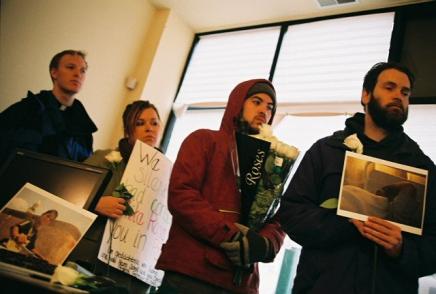 Remembrance and Action (photo: S. Sheridan): Chris Spicer, Abby Strozinksy, Tyler Chen and David Hovde (Tyler and David are members of Reba Community in Evanston, IL).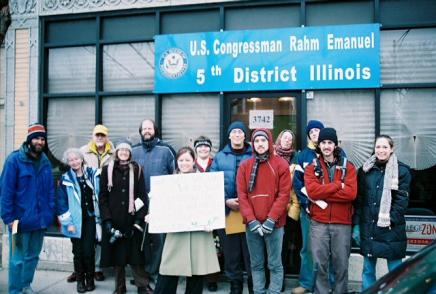 Concluding Gathering (photo: S. Sheridan)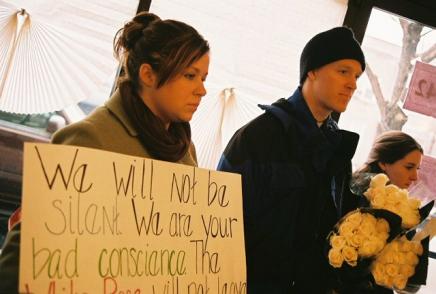 Recommitting to Resistance: We Will Not Be Silent (photo: S. Sheridan)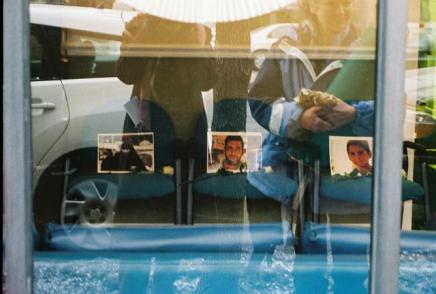 From the Outside Looking In: Resisting War - Remembering Iraq (photo: Laurie Hasbrook)