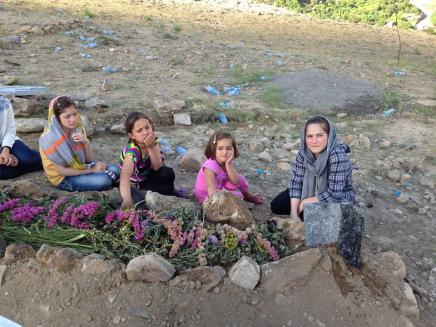 An Afghan friend, Nur Agha Akbari, was killed by gunmen in Afghanistan two weeks ago. The photo above shows his daughters sitting at his graveside.
July 3, 2013
On June 17th, in Afghanistan, The Frontier Post reported that unidentified gunmen shot dead two employees of the agriculture ministry as they traveled through the Logar province. One of them was our friend, Noor Agha Akbari. He and his colleague had been distributing gardening items in the Alam district and were on their way home to their families in Kabul.
In 2010, the first Voices for Creative Nonviolence delegation to visit Afghanistan carried a short list of people whom an expat then living outside of Afghanistan strongly recommended we contact. When we called Nur Agha Akbari, he immediately agreed to meet with us, and so began a friendship which eventually allowed dozens of people from the U.S. to better understand challenges faced by ordinary Afghan families struggling for a better, fairer society. Now we are extending condolences to his family. As noted above, gunmen killed him as he traveled back to Kabul after having distributed gardening items in the Logar province.
Mr. Akbari was a robust, energetic, well educated man from a respected, academic Afghan family. In the late 1970s, Nur had gone to study agriculture in the UK and remained there, becoming an organic farmer. His four brothers had stayed in Afghanistan, or else returned there after studies abroad. His two eldest brothers had trained in the Soviet Union – one as an engineer, one as a nuclear scientist – and had received early warning of the likelihood of what came to be the 1979 Soviet invasion. They spoke out publicly about their fears as the invasion grew more and more imminent.
On December 27 of that year, Soviet troops occupied major government, media and military buildings in Kabul, initiating a nine-year war between a nationalist/fundamentalist resistance (the "Mujahideen") and the Soviet occupiers. Soviet officials fired Nur's oldest brother from his cancer research work at Kabul University and blacklisted him. He found himself unable to work, and soon joined the resistance. Nur doesn't know much about what happened to him then, but he was among thousands of people bulldozed into mass graves after capture and execution by the Soviets. All told Nur knows very little about the fates of his three older brothers, all killed in the war. But their tragedy would largely shape his life.
Nur had arranged for his surviving, younger, brother to join him in the UK. But Nur would lie awake at night, thinking about the children and the wives of his slain brothers. Concerned that his nephews and nieces were now fending for themselves in Afghanistan's war zones, fatherless and penniless, he resolved to return home.