David Smith-Ferri
2918 Mill Creek Rd.
Ukiah, CA 95482
707-467-0468

www.battlefieldwithoutborders.org
Listen to an interview with David Smith-Ferri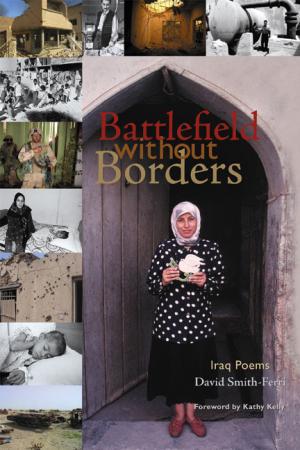 David Smith-Ferri (BIO) is an activist poet, whose newly released book, Battlefield without Borders (Haley's Publishing), portrays his encounters with Iraqi people and the events that have shaped their lives over the last eight years. Many of the poems were written in Iraq. Smith-Ferri writes in language that is accessible and powerful, and in a voice that is grounded in his experience. His poems are both a reflection on that experience and an attempt to voice the longings and the perspective of people caught in the vortex of war — Iraqi people, the families of US soldiers, et al.
Three-time Nobel Peace Prize nominee, Kathy Kelly, has written a beautiful Foreword to the book. She writes, "In these poems, David Smith-Ferri's creative intelligence focuses on insidious forces of war, forces that often cause people to shrink in fear. He appeals to our best instincts, urges us to overcome fear, and dares to offer trust and friendship as the basis for creating better social structures. In this sense his poetry is utterly useful and necessary, akin to a brilliant blueprint, beckoning builders."
All proceeds from the sale of his book (all but $2.00 of the sale price) will go directly to Iraqi victims of this war. For more information, including brief portraits of the families we are assisting, visit www.battlefieldwithoutborders.org or e-mail the author at
Smith-Ferri has just returned from Amman, Jordan where he met with Iraqi refugees, both Muslim and Christian, Iraqi and international NGO staff, Jordanian nationals, et al. The trip was full of rich encounters, including several meetings with an Iraqi surgeon who spoke plainly of the challenges and perils facing health care professionals and hospital patients in Iraq, and an Iraqi physicist who spoke about the targeting of academics and professionals. He also spent time visiting and talking with ordinary Iraqis who were forced to flee their homes and their livelihood because of death threats. Other highlights of his trip include lunch with Ali Shalal Qaissi, the hooded Iraqi prisoner whose picture became the symbol of American military excess at Abu Ghraib Prison, and numerous visits to an informal school for Iraqi refugee children. Smith-Ferri wrote a number of new poems in Amman, including one about visiting this school. He has developed a presentation which includes recent video footage from Iraq, a slide show and report from this trip, as well as a reading of selected poems.
Smith-Ferri, who is the current Poet Laureate of Ukiah, CA and a winner of the Janice Farrell Poetry Prize, has read his poetry at events across the country. His poetry and essays have been published in Z Magazine, Yes! Magazine, The Other Side Magazine, and the print edition of CounterPunch, as well as numerous online publications.