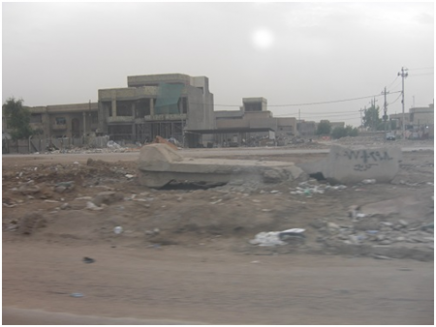 Baghdad, May 25, 2013
I just got off the phone with a woman friend from Ramadi. She was to come to Baghdad to meet with me. "I'm so sorry" she said sadly. "It is just too dangerous." She is wise to be fearful as I heard five drivers from Ramadi were kidnapped yesterday at fake checkpoints. We have good friends to the north of Baghdad whom we are also unable to see, from Dyala and Mosel.
Yesterday in broad daylight a man in civilian clothes pulled out his gun at a nearby gas station and screwed on a silencer. "It was like watching an American movie!" said a man looking on. I mention these facts to give you some sense of the extent of the lawlessness. It is not as if you can pick up the phone and call the police to come help you!
A sign of hope for me is to see that some of the cement barricade walls—which run the entire length of neighborhoods—have come down. If you look closely you can see a couple of them in the foreground of the photo I took from a moving car.
As we drive through different neighborhoods in Baghdad, however, countless roads are blocked and barricaded in a desperate measure to protect their streets. It makes finding our way laborious, like going through a maze. Cars and trucks are backed up at checkpoints, checkpoints that people say are useless as explosions continue all over the city.
One thing everyone agrees on is that the government is to blame. It is ineffective, unwilling and unable to provide security. Many feel the government is complicit in the killings and/or turns a "blind eye." In a recent slaying carried out by men in plainclothes in government cars with darkened windows, twelve liquor store workers were lined up and executed in broad daylight in the street in front of their shops.
"We need to change all of the leaders," said Ali. "There is no ministry that is not corrupt." He has no confidence in a fair electoral process and did not vote in the April elections. I pressed him for his thoughts on what might bring change. "Maybe a general strike throughout the country. Or have the people in the Green Zone leave. They are thinking only of themselves!" With a helpless look he asked, "How can we trust people now?"
Amazing to me is how life goes on. People have no option but to press onward, fearful and courageous at the same time. I was able to visit Yusif, a Christian, at his place of work in Baghdad. He is the only one of his family left in Baghdad. His sister resettled to Canada after fleeing to Syria. Visibly nervous, he related in a low furtive voice "I have to stay. I have work and need to send money to my brother and his family in Turkey. They are waiting for resettlement [for a year and a half now] and are not allowed to work." Afterwards we visited a Palestinian family whose sisters we know in Syria and a brother in the U.S. Can I help their case for resettlement? The elderly father used to go to the mosque for prayer, but now he is afraid. They feel their lives are in danger.