Peace Activists Also Tied Migrant Crisis to U.S. Global Wars
PRESS RELEASE
MARYSVILLE/BEALE AFB – Nine anti-drone protestors were arrested here early Tuesday morning at the gates to Beale Air Force Base and the drone operations center there – those arrested were from Redding to Sacramento, Stockton, Bay Area to Nevada City and were released with pending federal court appearances.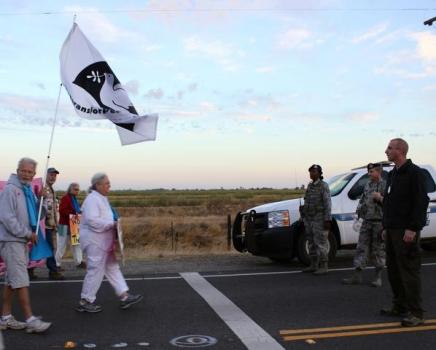 Crossing the line at Beale AFB
There's been more than 100 arrests over the past two years at Beale AFB,, home to the Global Hawk, a reconnaissance drone for armed, Predator drones. Twenty-two peace activists have a court date of Oct. 13 in U.S. Federal Court in Sacramento for 27 different arrests from 2014 to mid 2015.
A giant cardboard boat was used to show solidarity with refugees fleeing war, and also signs with images of people drowning, gasping for air, calling out: "I CAN'T BREATHE!!!"
The protests was a solidarity action for global refugees. Activists publicly read tragic stories of refugees fleeing war in Syria, Yemen, Libya. They were arrested while demonstrating the urgency for a reverse in U.S. policy, calling for diplomacy, humanitarian aid, and money for human needs to solve conflicts.
This weeks' protest at Beale coincided with a week of coordinated actions across the country calling for peaceful solutions to conflict. These actions are part of a long-term movement called Campaign Nonviolence.